About Us
Oxfordshire's oldest plumbing and heating company.
F.Church Ltd are Oxfordshire's oldest plumbing and heating company who were established back in 1923, where Frank Church first started trading out of his home in Shelly Road, Cowley, Oxford. We are currently the 3rd oldest plumbing and heating company in the United Kingdom which is something we are very proud of and wish to ever extend our establishment. We are one of the largest plumbing and heating companies locally and currently have 14 vans located all over Oxfordshire, so we are able to respond quickly to any job in Oxfordshire or surround counties.  
We are a company with old values, but operate in the 21st century. All of our engineers have trackers fitted on their vans, so we are able to pinpoint their movements and give accurate times of arrivals if needed. We also have all the latest equipment for carrying out the latest tasks in question. Each time a job is complete, the customer is able to sign the engineers iPad in real time and a copy can be sent detailing all the work carried out and the job status.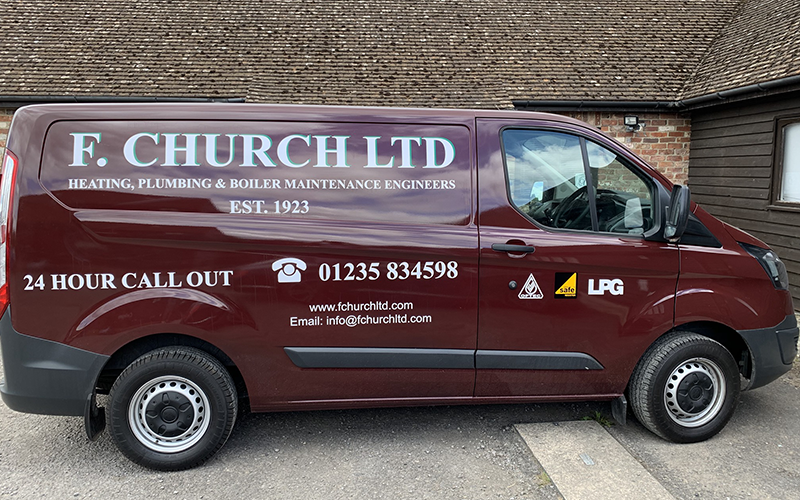 We offer a 24-hour, 365-day emergency call out service which is charged at a premium rate of £100 per hour, including travelling (Oxfordshire and surrounding counties, ask for details) however if it is not an emergency i.e. burst pipe, water coming through ceiling or gas leak etc, we strongly suggest waiting for the work to be done in normal business hours so that a completive rate for the labour can be supplied to help keep the cost down for you.   
For our 24-hour emergency call out service, please call 07710 158885 immediately.
The F.Church Ltd offices and storage warehouse is based in Steventon, near Abingdon, Oxfordshire, where we have been for the last 30 years.
Our normal office working hours are Monday to Friday 7.30am – 5.00pm – excluding bank holidays. The offices are closed Saturday and Sunday, but we are available for emergencies on 07710 158885.
Our offices are staffed during normal business hours where you can reach one of our highly experienced staff in our service department, contacts department, or accounts department.